»

Pennsylvania Online Poker
Pennsylvania Online Poker
2021 Update: Online Poker in Pennsylvania
Online poker is up-and-running in Pennsylvania. The Became the fourth state to legalize online poker in 2017. After that, online poker went live in 2019. The Keystone state now has several poker sites running at full-steam with PokerStars leading the charge. PokerStars even hosted the Pennsylvania Online Poker Championship in November 2019. The series had 10 events and culminated with a $300 buy-in, $125,000 guarantee Main Event.
Similarly, other popular poker sites have partnered with land-based casinos in Pennsylvania. 888Poker and WSOP.com launched a site and Party Poker partnered with MGM and Boyd Gaming. Additionally, several other land-based casinos will eventually provide online gaming too. Therefore, keep your eye on the state as several more sites start popping up.
Online poker is still pretty new in Pennsylvania. But the state has quickly become one of the largest poker markets in the United States. Poker is still growing in Pennsylvania, but one key question remains. Will Pennsylvania join New Jersey, Nevada and other states in a joint player pool?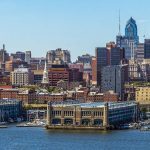 History of Online Gaming in Pennsylvania
Pennsylvania is one of the more lenient states when it comes to gambling and its laws. For example, they allow charitable gaming, commercial casinos, pari-mutuel betting and state lottery games. Aside from being lenient, Pennsylvania has a history of expanding gaming. For example, the state passed several new laws in the last decades to pave the way for this.
Casino gaming is relatively new in Pennsylvania. This is thanks to the Pennsylvania Gaming Control Board. The board started in 2004 and quickly expanded gaming. In just a few years, they licensed slot machines, new casinos and table games. Now there are
Also, the state legislature opened up gambling to truck stops, airports, fantasy sports and of course, PA online poker. Governor Tom Wolf signed bill HB. 271 on Oct. 30, 2017. This made Pennsylvania the fourth state in the United States to legalize online poker.
Can I Play Poker on PokerStars in Pennsylvania?
Yes! Before 2011, you could play on PokerStars all over the US. Now it's only available in two states and Pennsylvania is one of them. So if you're a poker player in Pennsylvania, you're in luck! PokerStars has gotten off to a good start in the state, but the games aren't as big as they used to be. That's because it only has players from Pennsylvania. Sites like Ignition Poker and Americas Cardroom take players from all 50 states. This means bigger player pools and bigger prizes! For more information, we've reviewed these sites and many more. So, to check out our reviews.
Regulating Gambling in Pennsylvania
Pennsylvania has a long history of gaming. They legalized betting at horse tracks a while ago and established the state lottery on August 26, 1971. With that being said, safety and close regulation is a priority.
In 2004, the state legislature passed the Race Horse Development and Gaming Act. That bill legalized electronic slot machines and allowed commercial casinos. In 2010, Governor Ed Rendell signed a law allowing non-electronic table games at casinos. In 2015, Pennsylvania's casinos generated a record-breaking $3.17 billion in gross revenue. That number keeps rising and the state broke the $3.3 billion mark in 2019.
The Pennsylvania Gaming Control Board is the regulating gaming entity in the state. Their goal is to provide safe gaming across the state. Their mission statement reads:
To protect the interest of the public by ensuring the integrity of legalized gaming through the strict enforcement of the law and regulations, the licensing of qualified individuals and entities, and fulfilling the objectives of limited gaming in the Commonwealth to deliver a significant source of revenue, assist the horse racing industry, provide broad economic opportunities and enhance tourism.
Therefore, it's safe to say that regulation is taken seriously when it comes to PA online poker.
What About the Rest of Us?
Check out our list of states below to see the current laws in your state:
Specific State-by-State Laws
Alabama – Alaska – Arizona – Arkansas – California – Colorado – Connecticut – Florida – Georgia – Hawaii – Idaho – Illinois – Indiana – Iowa – Kansas – Kentucky – Louisiana – Maine – Maryland – Massachusetts – Michigan – Minnesota – Mississippi – Missouri – Montana – Nebraska – New Hampshire – New Jersey – New Mexico – New York – North Carolina – North Dakota – Ohio – Oklahoma – Oregon – Pennsylvania – Rhode Island – South Carolina – Tennessee – Texas – Utah – Vermont – Virginia – Washington – West Virginia – Wisconsin – Wyoming
Frequently Asked Questions
Is it legal to play online poker in Pennsylvania?
Online poker is legal to play in Pennsylvania since the online gambling bill was passed in December 2017. Following this development, several operators applied with the PGCB to receive their gaming licenses, allowing them to offer online poker games. As long as you are playing on a site that has been approved and licensed by the state regulator, playing online poker in PA is completely legal.
Do I have to be in Pennsylvania to play on a PA-regulated poker site?
You do need to be physically present in Pennsylvania to play on a locally licensed room. Not only this, but you will also have to be in the state to even open an account. If you are not within the state borders, you will not be able to access the site, log in to your account, or play real money games.
Are licensed PA poker sites really safe?
Every poker site licensed by the PGCB has been through a vigorous verification process designed to ensure they operate in line with state laws and their business is completely on the up and up. You can be confident that these sites are totally fair, safe and not rigged.
Can I also play online poker from my phone?
As long as the operator you want to play with offers a mobile app, you can play online poker from your phone or tablet in Pennsylvania without any restrictions. Just remember you will have to have your location services on so the site can determine that you are in the state.
Are deposits and withdrawals from PA online poker sites complicated?
Not at all. You can use a variety of convenient methods such as credit and debit cards, e-wallets, bank transfers, and in-person deposits. All withdrawals are manually checked and verified and usually takes only a few hours.