»

Where Does Connecticut Stand on Offline and Online Poker?
Where Does Connecticut Stand on Offline and Online Poker?
Last updated: May 14, 2018 – Online gambling legislation will probably be proposed next year in Connecticut to legalize this activity. Discussions continue to take place on the topic of the state building a third casino. If the state decides to move forward, the casino will cost $300 million and will provide competition to MGM's $960 million casino which is being built near the MA border in Massachusetts.
Online Poker in Connecticut – Estimated Date of Legalization: 2021-2022
This is a great question often asked by poker players within the state. While Connecticut is fairly lenient when it comes to regulated gambling, and the different forms they offer, they aren't as lenient when it comes to playing poker over the Internet.
State officials have made it pretty clear they are not in favor of online gambling, which includes poker, and they consider it illegal with the current laws they have in place. Whether it is actually legal or not within the state is a topic of debate, only a court ruling can make that decision, but it appears they have no short-term interest in fully legalizing and regulating poker/gambling online.
Regarding offline poker, certain forms are legal but follow very strict rules and regulations. For example, poker is considered legal if it is:
"Incidental to a bona fide social relationship", which the law does not define making this more complicated to understand.
Being conducted at the state's two Indian casinos under the Indian Gaming Regulatory Act (IGRA) and state-tribal agreements.
Connecticut law makes it very confusing when it comes to charitable poker games and whether they are legal or illegal. They seem to contradict themselves on their stance regarding this matter, which this article will discuss more in detail later on.
Gambling State Statutes
It's always important to look at the state statutes and their definitions when trying to understand the law. In this case, when looking at Connecticut's definition of gambling it states:
"Gambling means risking any money, credit, deposit or other thing of value for gain contingent in whole or in part upon lot, chance or the operation of a gambling device, including the playing of a casino gambling game."
You can find this definition in Section 53-278a, and the hot word that is always looked at is "chance". Many experts feel poker is a game of skill, not chance, and that is why it should be considered legal. Some studies have shown the game of poker as 88% skill and 12% chance. This is always a big topic of debate which is why playing poker, online or offline, always falls under a gray area. Click here for a great resource, which covers the specific and actual laws on gambling in Connecticut over a wide variety of topics.
Poker/Texas Hold'em Tournaments
It does not seem that charitable organizations in Connecticut may legally conduct poker games, including Texas Hold'em, as a fundraising event. However, as mentioned above the exception seems to be if it's a social relationship situation where no money, prizes, and/or awards are won or lost. You may want to contact a local attorney to get clarification on what is legal.
What is legal is the Mashantucket Pequots and Mohegans may conduct poker games and tournaments at their tribal Indian casinos. The state made agreements with these tribes to do so, and they also gave them exclusive rights as long as they pay back 25% of gross revenue from their slot machines to the state. Playing poker tournaments at bars is also against the law even though it's legal in many other states.
Legalized Gambling Within the State and Some History
The Department of Consumer Protection Gaming Division regulates all legal gambling in the state. They are the body that issues licenses and permits to make certain gambling forms legal. It's important to note that organizations must obtain the proper licensing in order to classify the gambling they offer as legal, otherwise it will be deemed illegal even if they are offering a legal form of gambling. Bottom line, contact the Gaming Division for any questions.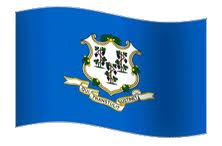 Charity – Non-for-profit organizations can raise funds from a variety of activities as long as they abide by the law and receive proper licenses and permits. Bingo was legalized in Connecticut in 1939, and in 1955 raffles were allowed. In 1972, non-profits could operate casino games during fundraising events but in 2003 that law was repealed.
Lottery – In 1972, the State Lottery was put into place. The Division of Special Revenue ran the lottery until the DCP Gaming Division took control. In 1996, the Connecticut Lottery Corporation was formed and at which point was the new operating organization for the State Lottery.
Racing – Horse racing is in their gambling statutes, although there are no current racetracks in operation. This might have to do with off-track betting becoming legal in 1976. Not many states offer this form of wagering, and it is currently operated by Autotote Enterprises.
Indian Casinos – The Mashantucket Pequot Tribe opened Foxwoods Resort Casino in 1992. Four years later, in 1996, the Mohegan Tribe opened Mohegan Sun casino. These are the only two casinos in the state, although they are looking to build a third casino near the Massachusetts border, and they generate large revenues annually and are heavily taxed by the state.
Specific State-by-State Laws
Alabama – Arizona – Arkansas – California – Colorado – Georgia – Idaho – Iowa – Kansas – Maine – Maryland – Massachusetts – Michigan – Minnesota – Mississippi – Montana – Nebraska – New Hampshire – New Mexico – North Carolina – North Dakota – Ohio – Oklahoma – Pennsylvania – Rhode Island – South Carolina – Tennessee – Vermont – West Virginia – Wyoming