»

Is Online Poker Legal in the USA?
Is Online Poker Legal in the USA?
There are several common reactions to learning that a person is a professional poker player:
"Oh wow! That's interesting!"
"Have I seen you on TV?"
"Isn't online poker illegal?"
This is the place to help address that last question.
When the United States Department of Justice issued a ruling on the Wire Act in 2011, it made clear that the law's prohibitions did not apply to online gaming and lotteries. The reading of the decision clarified that each state in America could legalize and regulate online poker, casino games, lotteries, and other forms of online gambling as they deemed appropriate.
That opened the doors for Nevada and Delaware to legalize online poker, and New Jersey, Pennsylvania and Michigan followed in subsequent years. Other states have debated this as well and considered bills, with several states likely to legalize online poker in the coming year.
Online Poker Still Booming in America
There is no doubt that states can legally offer real-money online poker. The federal government has yet to take a stand on the issue because some people still consider poker a form of gambling rather than a game favored by skill. As legislators on the state and federal levels begin to learn more about the true skill-involved nature of poker, organizations are helping to inform them and push for bills that officially legalize the game.
One poker site, www.Betonline.com, has accepted player deposits for over 15 years because they are licensed to accept players in the all 50 states.  Their stance is that poker is legal on the internet, and they are licensed for global jurisdiction. This is not a criminal matter, rather one of freedom and individual rights. So is BetOnline legal? Yes.
BetOnline isn't the only site that operates in the USA either with Bovada.lv, Ignition and America's Cardroom all accepting deposits from US players.
The Poker Alliance, former Poker Players Alliance (PPA), is the strongest lobbying force in the poker industry. The organization promotes legal live and online poker, ensuring that any lawmakers around the country who discuss any type of online gaming or sports betting also consider that online poker offers a bigger skill component and should be legal in the United States.
Poker Alliance is working closely with many states. Illinois, and Massachusetts are the states with pending legislation that could still pass in the near future. While those are the three states currently giving online poker the most serious consideration, others like New York, Connecticut, California, and Washington have advanced bills in the past and could easily do so again.
Is it Legal to Play Real Money Online Poker?
The answer to this a definite "yes," as it is perfectly legal to deposit for online poker in USA, for all different types of poker games. Players in the United States are not in any legal jeopardy for playing poker online, and there have been no instances of the US government – or even state governments – trying to penalize players.
To the best of our knowledge, there are no federal laws that make it illegal to deposit or play online poker from the US. There are some states that have inserted somewhat harsh language about the operations of online gaming aimed at their residents, with Utah being the most anti-gambling state in America, but most laws are either convoluted or ambiguous at best.
Of course, we're not attorneys, nor do we come from a legal background. Licensed and legal professionals should always be consulted when an actual situation arises in which someone may be (or feel they are) in legal jeopardy.
Specific State-by-State Laws
Alabama – Arizona – Arkansas – California – Colorado – Connecticut – Georgia – Idaho – Iowa – Kansas – Maine – Maryland – Massachusetts – Michigan – Minnesota – Mississippi – Montana – Nebraska – New Hampshire – New Mexico – North Carolina – North Dakota – Ohio – Oklahoma – Pennsylvania – Rhode Island – South Carolina – Tennessee – Vermont – West Virginia – Wyoming
Didn't the US Ban Online Poker in 2006?
No. The US government did pass the Unlawful Internet Gambling Enforcement Act in 2006 (UIGEA for short), which made it illegal for banks and financial institutions to aid in the processing of "illegal" online gambling transactions.
Experts on this law have asserted that the bill itself did not create any new laws, and most believe it only complicated internet laws. The 2011 Department of Justice decision regarding the Wire Act 'clarified' it enough on the legal level, though, to say that the law does not apply to online poker and other forms of online gambling when the state allows those activities.
Later in 2011 the US Department of Justice indicted several sites that still operating incorrectly in the USA in a misguided move that is referred to as Black Friday by online poker players in the USA. Even Black Friday wasn't enough to slow the steady growth of online poker in the USA and there are still plenty of options for poker players and organizations like the Poker Players Alliance are fighting to legalize poker in more states.
What About the Wire Act?
As noted above, the interpretation of the 1961 Wire Act was clarified by the 2011 DOJ decision, noting the law only pertained to sports betting, not other forms of online lotteries and gambling.
On top of that, the US Supreme Court ruled on a case that pitted the state of New Jersey against the National Collegiate Athletic Association (NCAA) and other professional US sports teams. The law in question was the Professional and Amateur Sports Protection Act, better known as PASPA, and the Supreme Court overturned that law to allow all states in America – not just Nevada – to legalize and regulate sports betting. This, in effect, renders the last part of the standing Wire Act irrelevant and unenforceable in the arena of states' rights.
However, there is a danger to the Wire Act decision in its entirety. Casino mogul and billionaire Sheldon Adelson has made it his life's mission to ban online gambling of all sorts in the United States. He has spent millions (at least) of dollars in supporting political candidates and lawmakers who are likely to overturn the 2011 Wire Act decision or simply pass a prohibition-style law to ban all online gaming. Of course Adelson has a lot to gain by restricting players so that they can only play in brick & mortar casinos.
The law that Adelson's friends have tried to pass is RAWA, the Restoration of America's Wire Act, but those politicians have had no success. Not only is online poker and gaming popular and the wave of the future, it is legal in four states already and more to come. To pass a law like RAWA or to overturn the Wire Act now would create a legal nightmare, as states would challenge the law in court and likely win.
The bottom line in the US is simple: States can legalize online poker, and several have done so. There are no laws specifically outlawing online poker.
Some, like Adelson, have challenged this and will continue to do so, but they are fighting a losing battle in a war of their own creation. You'll probably see poker and sports betting legalized on a federal level in the next decade.
New State Laws Regarding Online Poker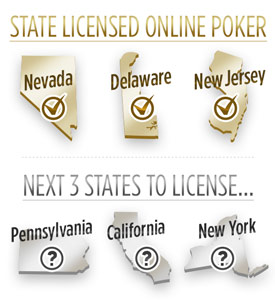 Nevada took the first step to legalize online poker and paved the way for others to do the same. Delaware followed, legalizing online poker, along with lottery and casino games. New Jersey did all of this on an even larger scale. The latest to join the group was Pennsylvania, which passed its law in 2017 and finally launched regulated online poker in late 2019.
Michigan has passed online poker legislation but won't launch until late 2020 at the earliest. Other states are seriously considering doing the same. Lawmakers in Illinois and Massachusetts are in the process of seeking final votes to pass gambling expansion bills that will allow casinos and racinos to partner with online poker and gaming sites to expand their businesses and produce additional revenue for themselves and the states. New York and California have been considering the same types of bills, with Connecticut, Louisiana, Washington, New Hampshire, West Virginia, and others starting to explore the issue as well.
These laws, as passed by individual states offer licenses to poker sites online to partner with land-based casinos and racetracks. Licensed poker sites may then offer games to players who are physically located within that state's borders when playing, and there are many protections to ensure that the players are of legal age and aware of all responsible gambling resources.
The benefit to more states legalizing online poker is also that the states can sign contracts to join their online poker sites. A multi-state network has already begun, starting with Nevada and Delaware offering shared online poker liquidity and joint player pools, with New Jersey joining the network in the spring of 2018. It is very likely that Pennsylvania will do the same at some point in the near future.
What About Online Sportsbooks?
Sportsbooks actually have a lot in common with online poker in the way that they are perceived by legislators. Both games feature elements of luck and skill and both are incredibly popular.
Perhaps the biggest difference is that there's been a lot more movement on the sports betting side of things with many states quickly moving to legalize and regulate sportsbooks in an attempt to cash in on the rampant betting on US-based leagues such as the NBA, NFL and NBA.
So, is it Legal to Deposit for Online Poker in the USA?
The answer is an emphatic yes. The laws may be confusing, but we tried to break down the individual components of those laws to make it easier to understand. And as things change, we will update these pages with the most current online poker information.
Even so, we recommend talking to a gaming attorney with any specific questions for your particular jurisdiction. In our eyes people are always going to want to play poker and no matter what restrictions lawmakers put in place there will always be a game running for people who truly want it. You can check our poker reviews to learn about potential places to play.
If you're ready to play online poker, let's get to it. We'll see you at the tables!