»

US Credit Cards Poker Payment Processors at Online Poker Sites
US Credit Cards Poker Payment Processors at Online Poker Sites
If you're looking to deposit with a US poker site using a credit or debit card, you can run into difficulties that have existed with the poker payment processor business since the 90s. The process has been tightened up since the introduction of the 2006 UIGEA legislation, but UIGEA also made it hard or impossible for banks or credit card companies to knowingly accept gambling transactions. Let's go through what sites have high acceptance rates and the legality of doing so.
However, without going any further into the laws and court precedents regarding credit card deposits to US gambling sites, we should state:
It is still relatively simple and legal to deposit at poker (or other online gambling) sites when using a US credit card."
It's illegal only to partake in gambling if you are operating a site taking bets, or act as a payment processor for deposits and withdrawals. You're just a player and, therefore, exempt from federal charges.
How to Deposit with Credit Cards at US Poker Sites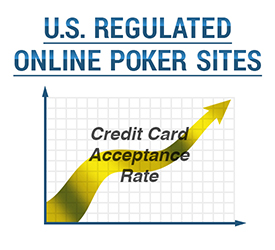 The most effective online poker sites accept credit card deposits and one that has as many as 15 backup card processors – is www.Betonline.ag with IgnitionPoker.eu (previously known as Bovada) as an alternative. MasterCard and Visa can be used for online poker deposits at both these poker rooms (Amex is also accepted at BetOnline, but you must have at least $250 in your account and have deposited five times using a different method). Approval rates reach between 65% and 85% according to management. This approval rate applies primarily to secured credit cards such as prepaid cards, Visa, or MasterCard.
Unsecured cards are generally declined for reasons we'll discuss below. It's the bank's decision to accept or decline whichever transaction they perceive as high risk, even if the transaction is perfectly legitimate. Alternately, you can transfer money using Western Union or MoneyGram.
Can You Issue a Chargeback if You Deposit and Lose Your Funds?
Chargeback is much less common than it used to be. Online gambling sites limit first time deposits, so if a deposit is successful the first time, sportsbooks will increase your deposit limit. Gambling sites are in competition with one another, but this doesn't prevent them from regularly collaborating and sharing 'black-booked' customer names. This sharing is done in order to increase honesty. If you've been black-booked, you won't be allowed to deposit via credit card and could be banned from the site.
Credit Cards at State-Owned Poker Sites?
Nevada, New Jersey, Delaware, and Pennsylvania all have legally-regulated and state-licensed online poker rooms. These operate at the intrastate and interstate levels, meaning play is only available inside the state via residents or tourists unless state compacts have been formed like NV, NJ, and DE have done. Those physically located in New Jersey, Nevada and Delaware can play against each other, but they are still waiting for Pennsylvania to join the party. Legal battles between state and federal agencies will decide its long term legality.
Even with these states having legal poker sites, poker payment processors like MasterCard and Visa still decline deposits at times. Online poker market regulations are still new, so banks find it difficult to differentiate between state-licensed poker rooms and offshore operators. This causes many transactions to be declined. As banks come to terms with legal gaming, these problems should ease.
Once the legal markets become established, depositing via credit card will become fully functional.
Problems Credit Card Companies Face
In 1991, a Massachusetts man sued (and won) in order to avoid paying a $5,500 cash advance. He spent the money in a casino, but gambling debts were unenforceable where he lived and where the bank was located. That isn't an isolated case. In 1998, a court ruled that a woman wasn't responsible for paying $70,000 she racked up in online gambling debt. Her attorneys were successful in winning a counterclaim against MasterCard and Visa.
Court cases like those caused banks to refuse the use of unsecured cards at gambling sites. The situation has been different for secured cards, though. When secured credit is used, no "debt" is said to have been created. Banks can't be hit by the same laws.
Everything changed in 2006, however. The UIGEA Act passed into law in 2006, making it illegal for banks and financial institutions to "knowingly" process transactions related to "illegal" gambling. (See our page on poker law for what's considered "illegal".) The penalties for violating this law are hefty, so banks and credit cards companies are much more diligent in policing against online gambling transactions.
The dangers to the consumer are low, however. Generally the bank will just decline to process a transaction related to online gambling and the consumer will have to use a different banking method. The vast majority of gambling transactions go through without a hitch.
It's rare that a bank will close your account for depositing or withdrawing gambling winnings, but it does happen. 99% of online gamblers have no issues with their banks.
No Doesn't Always Mean No
Gambling transactions are a nightmare for credit card companies, so don't be surprised if the bank blocks a transaction to an online gambling site. This is nothing new, but requires a phone call to allow the card to process the transaction. Banks face high penalties for not observing the regulations, so they'll block any transaction they deem 'high risk'.
Of course, when talking to your card company or bank, don't mention that you want to use your card for an online gambling site. Just say you're trying to make a purchase with an online vendor. The site may be able to help you by running your card with a different processor. Sites will use different processors at different times of the day, and may be able to run your card again with a different processor.
Unregulated, Offshore, and International Sites
It's best to use a secured credit card – one that has been preloaded or one linked to a checking or savings account. If you only have an unsecured card, it's likely you won't be able to use it to deposit at your desired poker site but there are alternative payment methods.
Almost every US poker site offers at least one option that helps to indirectly fund the account using an unsecured credit card. Take the Rapid Transfer option, for instance. Players use cash, debit, or credit cards to fund their Rapid Transfer account. They then use it to move money into a gambling site that supports Rapid Transfer – Ignition Poker, for instance. It's classed as a person-to-person money transfer service, so payments don't appear as gambling transactions. It therefore exempts payments from gambling regulations.
Alternatives to Credit Card Deposits
So, what's the best solution for depositing online besides credit cards? In our opinion, person-to-person money transfer services like MoneyGram or Western Union will be your best bets. Bitcoin and other cryptocurrencies are also on the rise as a method to deposit and withdraw funds. Other deposit options include wire transfers, paper checks, or cashier checks.
If you're a casual gambler, a deposit or two using your credit card is unlikely to be an issue. For those looking to deposit online via credit card, we recommend Ignition Poker and BetOnline at this time.