»

888poker in the United States
888poker in the United States
888poker (formerly known as Pacific Poker) is one of the largest poker sites in the world, and now it's starting to spread its roots in the United States. Currently, 888poker is only available to players in New Jersey, but it has sister sites in Nevada and Delaware. 888poker provides software for WSOP Online and a few other casino-run poker rooms across the United States.
Because of an agreement these three states made, players from all those sites can play against each other. This makes 88poker's player pool significantly larger and their plan is to expand this model as more sites jump on the legalization train. One of the most important aspects of any online poker site is the size of its player pool. That's what dictates game selection, a range of stakes and big guarantees. 
Before we take a look at what 888poker is now, let's see where it came from.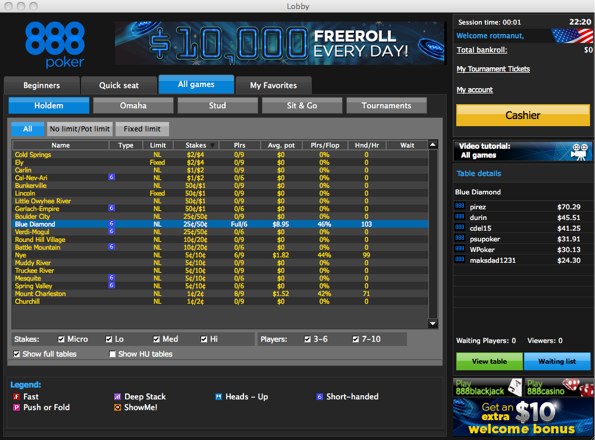 Brief History of 888poker
888poker was previously known as Pacific Poker and got its start back in 2002. The site is owned by 888 Holdings, a company founded by two sets of Israeli brothers in 1997. The company quickly grew around the world. Aside from having one of the most popular poker sites in the world, it also sponsors a number of live events around the world like the Battle of Malta, WPT Deepstacs and, of course, the World Series of Poker. 
Harrington Helps Boost the Site
888poker started its sponsorships early on. In 2003 888poker sponsored Dan Harrington, the 1995 WSOP Main Event Champion and author of "Harrington on Hold'em", during the World Series of Poker Main Event. While Harrington didn't win it again, he did make the final table. Harrington finished 3rd and won $650,000. Then he followed that up with another WSOP Main Event final table in 2004. Harrington finished 4th that year and won $1.5 million.
The 2003 WSOP was one of the most notable though. Chris Moneymaker, who qualified to the Main Event for just $86 online, won that event. PokerStars got the bulk of the fame after that, but online poker, in general, got a pretty big boost and 888poker got more than most thanks to Harrington's performance. The 2003 WSOP Main Event final table broadcast is one of the most aired events in televised poker history. You can still catch reruns today.
The Site Leaves the States
After that, the site continued to grow and it consolidated a number of its sister sites around the world. 888poker kept sponsoring events and players and quickly grew in popularity. In 2006, after the UIGEA passed, 888poker decided to pull out of the United States. 
The site continued to grow in Europe and abroad. It also launched a series of 888poker Live events and signed a number of pros. The 888poker team includes the 2010 WSOP Champion Martin Jacobson, Chris Moorman, Dominik Nitsche, Vivian Saliba, Kara Scott, Sofia Lovgren, Ana Marquez and Daria Feshchenko. 
While all these pros are based outside the United States, 888poker has started making inroads back in the USA.
888poker Comes Back to the United States
888poker left the United States in 2006 but it came back in force when states started legalizing online poker. The first state to pass laws regulating online poker was Nevada. After legalization, 888poker quickly partnered with a Casesars Entertainment in the United States. The Nevada Gaming Commission granted the site a license in 2013 and then it launched in the state, as WSOP Online, a year later. 
A few months later the site launched in New Jersey, this time under the name 888poker. When Delaware legalized online poker, it was up to the Delaware Lottery to select the primary vendor to provide online poker in the state. The state selected 888poker and the site partnered with local companies to provide poker in state. 
These three states also signed a pact for shared player pools. Because 888poker or its sister sites operate in all three states, that means all those players are in the same pool. That means WSOP Online players in Nevada can play with 888poker players in New Jersey. This is the next big step in online poker in the United States since a large player pool is essential to a healthy poker ecosystem. 
If more states legalize poker and 888poker keeps offering sites in them, then it could grow to be a real big site in the United States.
888poker Alternatives
If you're not in a site with 888poker, there are several alternatives. Check out our reviews of sites that accept players from all 50 states.