»

888poker US for American Players (Pacific Poker)
888poker US for American Players (Pacific Poker)
Article Update: This company is now being operated for residents of New Jersey. The new name is US.888poker.com or (888pokerNJ). If you are not from New Jersey, when you try visiting the link it may bounce you back to your previous page using a locational detector (IP check, 301Redirect & Proxy checker).
Check out our top recommended online poker sites for US players on our comprehensive poker sites reviews page.
I went to take some software shots with my proxy re-locator but you can't access using a controller. But you can still access the site, but only three tables were running as seen in this lobby shot. There are 10k freerolls each day and a $10 instant bonus.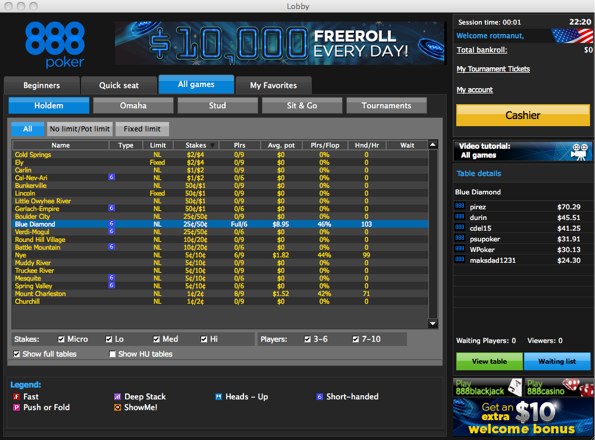 Brief History of 888poker
Pacific Poker is an online poker room owned by 888 Holdings (LSE: 888), and one of many gambling products that can be found at 888.com. When their poker room first launched in 2002, much of their initial traffic came as a result of cross marketing exchanged with their own already well established online casino brand. Many poker players were introduced to 888 and Pacific Poker for the first time via the final table television broadcast of the 2003 WSOP Main Event, the event won by Chris Moneymaker.
Exposure 888.com received at the 2003 WSOP came from their sponsorship of '95 WSOP Main Event Champion Dan Harrington, who went on to finish in third place. While 888.com couldn't have known so in advanced, this turned out to be one of the best sponsorship bargains of all time. Dan Harrington's tournament poker career soared after the 2003 event. He once again made the WSOP Main Event final table in 2004, and soon after scored $620K for a runner up WPT finish, and then $1.6 million for a WPT title. From here Harrington, went on to write an inspiring and insightful series of books, including the three volume "Harrington on Holdem" series as well as "Harrington on Cash Games".
As the result of his poker accomplishments and his contributions as an author, Dan Harrington won over the respect and admiration of the poker community. The year Harrington was sponsored by 888 was the same year Chris Moneymaker became the first player qualifying via an online satellite to win the Main Event. The final table broadcast of the 2003 WSOP Main Event has hands down been the most aired event in televised poker history, with reruns still running today.
With soft games fueled by casino spillover traffic, a strong marketing team, and the constant replenishing exposure the 2003 WSOP Main Event gave them, Pacific Poker quickly grew and soon became one of the largest poker sites in the world. Their momentum was broken, however, when on October 2, 2006 they stopped servicing the US market.
Pacific Poker in the US
On October 2, 2006, following the passage of the Safe Port Act, which included unrelated anti-gambling language to the act, known as the Unlawful Internet Gambling Enforcement Act or UIGEA for short, Pacific Poker was the first online poker site to announce that they were leaving the US market. This move was followed by many other online poker sites within the days and hours that followed. Now, Pacific Poker has returned to the US market in New Jersey under the the 888 brand. This was allowed to happen because HR2267, a bill which would regulate online poker in the US passed the House, Senate and got signed into law by the President.
Some thought Pacific Poker would face US prosecutors seeking to recapture $120 million that their parent company 888 Holdings earned prior to leaving the US market. While this might seem absurd to some, the company behind PartyPoker.com negotiated a similar settlement in April 2009, agreeing to pay the United States government $105 million in penalties, for processing transactions that were "contrary to certain US laws", in exchange for a "non-prosecution agreement".
In the meantime of waiting for more US gambling licenses, the parent company behind 888pokerNJ is in a prime position, as the result their agreement with Harrah's, the owners of the WSOP/World Series of Poker brands, where 888 acts as the software provider for such products as the WSOP and Caesars Poker.