»

Is it Safe to Play Online Poker from the US
Is it Safe to Play Online Poker from the US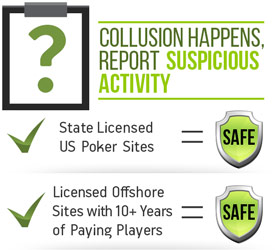 A question new online poker players often ask is, "is it safe to play online poker from the US?" The answer, or perhaps the question, is twofold. If you're worried about getting cheated by players the answer is THEY SURE ARE. We've covered this aspect of poker security on our page about cheating in online poker in the section at the bottom labelled "collusion". The second aspect of this question is whether poker companies are honest, regulated and financially secure, and if your deposits are safe. We'll address that aspect of the question in this article. But the answer is yes, but only at poker sites licensed within the US, or offshore sites that have at least a 10-year record of paying players (the only sites we mention on our guide).
The Safest Online Poker Site 2022
Ignition Poker is the Safest US friendly Site
In this article we'll mention some topics that might scare you off. We want you to know upfront there IS a shortage of safe online poker sites in the US (unless you live in New Jersey, Delaware or Nevada, and play on state licensed sites). The safest site for the past several years passing Black Friday, a large scale shutdown of most offshore sites serving the US, has been IgnitionPoker.eu, previously known as Bovada.
Their company, while headquartered in Canada, is the only one of all offshore sites that serve the US in which they hold gambling licenses in Italy and France, and also their licensing body of Antigua – very few online poker sites are licensed by anyone, Ignition Poker is by both. If fact, most sites just say they have a license, and they really don't. This opens them up to strict auditing and full disclosure from major European countries.  With a near 4 to 1 margin on their closest competitors player traffic and that they have a dominating international presence hosting live tournaments all over North America, South America, Europe and Asia and have their own live card room in Macau China, it's safe to assume their safety. They (Bovada/Ignition) are now a (2) billion dollar private company licensed for US operations by the Morris Mohawk group, a Federal Canadian Independence. Players funds are set into segregated accounts from business expense to ensure players deposits are never used for operating costs. If you're highly concerned about security, we approve this site.  I wrote a summary page on Bovada's review here.
Safest Online Poker Sites FAQ
Are Players Funds at Risk When Poker Sites Go Out of Business?
While we'd love to be able to tell you no US poker site's failure has ever resulted in the loss of players funds, that would be a lie. One of the first online poker sites ever to launch was Dutch Boyd's PokerSpot.com which failed miserably. The Boyd family and their partners were early players on the online poker scene and didn't have the experience required to manage risks associated with credit card fraud. At the time PokerSpot.com was near bankrupt, the company had nearly $600K worth of virtual chips in play that they had never actually been paid on. Most of these were the result of deposits made with stolen credit cards, or chargebacks. With these fraudulent chips won and circulated by legitimate poker players whose accounts were in good standing, this was a tough situation for PokerSpot.com, as there was no way to say some chips were valid and others were not. Needless to say PokerSpot was the first online poker site that closed where players lost their balances.
While many online poker sites have closed since PokerSpot.com first closed their virtual doors, 75+% of these sites did so without loss to players funds. A couple that come to mind that didn't were PokesPoker.com, an Ongame Networked skin associated with FutureBet, Ultimate Bet and Absolute Poker on the Cereus Poker Network, and a small independent site called JetSet Poker. In all of these cases, including PokerSpot.com, there were warning signs that suggested it might not be 100% safe to play on these sites. Even Ultimate Poker which had continuous internal fraud I think would have paid players back had the US government not seized it all. Continue reading…
Which Poker Sites are Safe to Play at?
We'll, if you're not simply skimming this article, you'll have already read we have high regard for Ignition Poker which in our opinion is the safest site for US players. They are not the only safe site, however. They don't have quite the presence as PokerStars.com, but Stars doesn't accept Americans and Ignition does. The reason we consider them safe is that the owner built the site out of 14+ years in the business, then sold it to proper owners, and have no missed payouts, complaints, and were founded by one of the most accessible to the media operators in the history of gambling – Morris Mohawk.
On the flip side, there are other sites that pose risk. For example, the Equity Poker Network, in particular Full Flush Poker, and the Merge Poker Network which consists of Carbon Poker, Players Only, and Sportsbook.ag are two networks with very slow payout speeds and consistent complaints across the board. The Equity Poker Network has only been in business since 2013, not nearly as long as Ignition/Bovada or PokerStars. Currently, we do not recommend playing at any sites on the Equity Poker Network and Merge Gaming Network.
When choosing a US poker site, always look to see how long that site has been in business, and then google search or search popular gambling forums to see player's feedback about that poker site. While it is true some players have lost funds due to sites closing, in all cases we know of, there were clear warning signs that these sites might not have been safe. So long as you're proactive in researching sites before you deposit, you should find it safe to play online poker from the US.  Look on our site navigation to further your research.
If you have any doubts about which online poker site is safe, we encourage you to stick to our recommended site IgnitionPoker.eu.