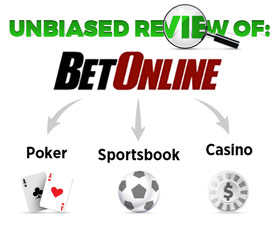 Updated by Savanah Lavinder on Jan. 24, 2019
The first thing that most people will take away from BetOnline.ag is that it's got an unusual domain.
The domain .ag (which is short for Antigua) definitely threw me for a loop the first time I saw it but I'm here to tell you that I consider BetOnline to be a fully legit poker, sports betting and casino business.
Technically the BetOnline.com domain was actually banned by Google for a short period of time but it's back now. Regardless the company decided to keep the BetOnline.ag brand and that's how both pages are branded.
Negative Reviews?
If you've perused some of the popular online poker forums you may have noticed that BetOnline.ag tends to polarize people and there are more than a couple negative posts about the brand.
I've read most of them and, to the best of my knowledge, the majority are either illegitimate members, paid competitor shills or losing players who have violated the basic terms of service for BetOnline.ag.
In addition it's quite complex processing payments for an international online poker site so there are sometimes delays in withdrawals. Many players get frustrated with the delays and forget to update their post when they finally do get their payment.
It's not exactly uncommon in the online poker world for bad players to take out their frustrations on the poker site where they play but it's unfortunate in the case of BetOnline.ag because I've had good results and both the software and support has been reliable for me.
Take your pick but I do believe BetOnline is a reputable site but fails at not hiring a manager to monitor their brand and accusations online. Every single gambling company I've reviewed has tons of negative reviews online but in almost all circumstances it comes down to losers blaming the house. These companies make millions a day, they have no reason to cheat customers – at least not the legit poker sites.
Here is my current review as I would write to a friend.
Who Owns It?
BetOnline.ag is a privately held online gambling company that has been servicing bettors for more than 15 years.
It's one of the biggest online sportsbooks in the world with online poker and casino games also in the mix. The CEO is currently Eddie Robbins III and the COO is Marcus Shrestha.
BetOnline.ag has always been one of the more progressive sports books and it's famous for being the first company to accept a bet placed from the top of Everest (technically basecamp 4). It was also one of the first online companies to accept Bitcoin for deposits and withdrawals.
The company has its headquarters in Panama City, Panama, but rebranded to BetOnline.ag in 2012.
The Bad Stuff First
BetOnline.ag's 24/7 customer phone support is notoriously unfriendly and usually requires a wait time unlike the instant answer and courteous support found at Bovada (another review). They've gotten better over the years but it's still not ideal. You can't even use the live chat unless you have deposited.
For a billion dollar company not to have basic training for their customer support is beyond me, but it seems the bigger companies get these days the worse the support gets. Unfortunately, customer support is BetOnline's biggest failure as a betting site. Everything else is done well for today's environment.
BetOnline's internal betting platform isn't the prettiest or easiest to use either – it's not ugly but there are definitely better-looking sites out there. It makes up for its relatively plain appearance with excellent promotions with the likes of Cash Backs and Rebates. The addition of Live Betting, Mobile Betting and a Live Dealer casino has been a very positive move for BetOnline to make it peak as one of the top three (3) gambling sites on the web for US bettors.
Sign-up Bonus

BetOnline.ag gives 200% up to $2,000 in free-play bonuses on your initial deposit. It'll take you a while to meet BetOnline's rollover requirements but it's worth sticking around, with a potential bonus of 2,000 American dollars with your first deposit.
Deposit/Withdrawal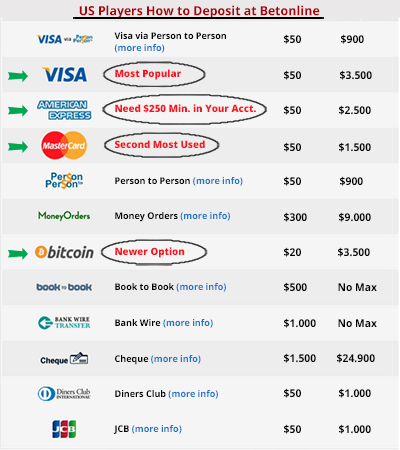 Upon registration, BetOnline is probably the best at processing credit card deposits for US customers. They are the only gambling site to serve all 50 US States.
BetOnline also offers support for Visa, MasterCard, Discover, and American Express. Amex is only available to players who have made a minimum of five deposits using another method and have at least $250 in their account.
It's best to call customer support if you have any problems depositing, they have alternate credit card processors that BetOnline will run your card through in the event that your card is initially declined.
BetOnline was one of the first sites to allow Bitcoin as a deposit and withdrawal option. There are $20 minimum and $3,500 maximum limits on deposits and withdraws using this banking option. Additionally, for US customers they have Money Transfer (Western Union and MoneyGram) and Bank Wires but these can take longer and are not as convenient as instant credit card deposits. We use these as a last resort. International customers have no problems depositing with all the normal Neteller, Skrill, and Credit Card options.
2019 Withdrawal Speeds: BetOnline has some of the fastest payout speeds in the industry. Players are receiving checks in 6-14 days, money transfers in 4-6 days, Bitcoin within hours, and bank wires in 7-8 days.
Sportsbook
Visually, BetOnline's sportsbook doesn't look like anything special once you log in (the website looks great, until you register and login) and the process by which you place a bet is different from most of the systems elsewhere. It's not as intuitive as it could be, but they offer all the major leagues and the line value is good compared to other US Books.
There was an old rumor they would just use the same lines as Vegas as 'starting lines' but the site actually posts its lines BEFORE Vegas not after.
Poker Room
BetOnline is primarily a sportsbook but in recent years they have added a poker room that is both Mac and Windows compatible. It is one of the more popular poker rooms for US players and is always in the top three in regards to player pool traffic. The poker room originally was more of a novelty to recruit poker players into the sportsbook, but it's now becoming a top trusted poker site resulting into more and more real money poker players. The poker room is worth checking out if you don't mind the majority of games being low stakes – which is what the poker room was meant to cater to. The graphics are getting better and it's one of the poker sites we recommend.
Casino
The casino at BetOnline uses DGS software, one of the leading casino software developers in the world, which has the usual suspect games and 3D slots. The full screen software is quite nice as you can see. A brief tip, try and stay away from the casino games. All-in-one gambling sites such as BetOnline want their customers at the sportsbook and will generally set the payouts LESS than the standard for the casino industry.
Conclusion

BetOnline covers most of the bases sufficiently well and its betting limits are on the high side, which is good for all types of bettors – small or big. BetOnline is a good, solid online sportsbook with a growing poker room that gives its clients reasons to stick around through its commitment to promotions and content. Overall, for a US gambling site they cover the primary concerns of depositing, acceptance and safety, and we at USpokersites.us recommend this site.
Click here to visit the website, www.BetOnline.ag. As with all my reviews, I don't recommend leaving money on a site that you can't afford to lose. The likelihood of anything going wrong is extremely low but you can never be too careful. Just keep this in mind if you make a big score.
Author: Savanah Lavinder
Copyright: 2019 uspokersites.us